MYSKICOACH.CH® VALAIS-SWITZERLAND – TAKE THE MOMENT AND MAKE IT PERFECT ! #coaching4yourfun
By our knowledge of the field, we make sure to find the best conditions of the day, focusing on safety, freedom and loneliness.
@myskicoach.ch #MySkiCoach #Coaching4yourfun
Freeride instruction - private coaching
Ski lessons - Ski touring - ISTA avalanche instruction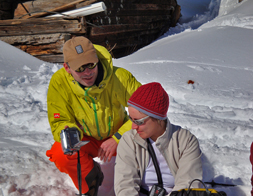 Coaching
video
You want to progress on piste or off-piste. Nothing like our video coaching and instant feedback on screen to get there. The use of video and playback on tablets using specialized software (…)Our coaching focuses on the technical skills (…) 
Read more
Rates, terms & Conditions
LARGE
450.00
225.00
165.00
135.00
117.00
105.00
CLASSIC
400.00
200.00
147.00
120.00
104.00
93.00
MEDIUM
300.00
155.00
110.00
90.00
80.00
70.00
Day price per person in CHF including the ski instructor wages.
Half-board, transports, food, drinks and accomodation are not included.
LARGE day : 6 hours of skiing, pick-up service
CLASSIC day : 5 hours of skiing, pick-up service
MEDIUM day (half-day) : 3 hours of skiing, pick-up service
Join the ski & freeride group sessions
Follow me on Instagram & Facebook
@myskicoach.ch
@myskicoach.ch
MySkiCoach.ch a partagé la photo de Monterosa. ...
Via ai lavori per la seggiovia hi-tech di Monterosa 2000. Alagna, apre il cantiere della Cimalegna-Passo dei Salati. Due anni fa era stato presentato come il fiore all'occhiello del piano industriale di Monterosa 2000, la società proprietaria degli impianti di risalita di Alagna. Ora diventa realtà. Ieri (mercoledì 19) ha aperto il cantiere per la realizzazione della nuova seggiovia quadriposto ad agganciamento automatico che collegherà Cimalegna (2.650 metri di altitudine) al Passo dei Salati (3.030 metri) con una lunghezza inclinata di circa 1.800 metri. «L'impianto è il frutto di un lungo e scrupoloso lavoro di progettazione tecnica e di compatibilità ecologica, ambientale e urbanistica - dice Luciano Zanetta, presidente di Monterosa 2000 - e si configura come protagonista del nostro piano industriale. La costruzione comporterà l'incremento della portata della linea Alagna-Passo dei Salati (1.800 persone all'ora , ndr) con la conseguente agevolazione dell'accesso al comprensorio di Monterosa Ski dalla porta piemontese. Inoltre garantirà una gestione ottimale delle piste di Cimalegna. L'opera è il risultato di un ingente impegno di Monterosa 2000, della Regione, dei Comuni di Alagna e Riva Valdobbia per migliorare l'offerta sciistica e incentivare il sistema turistico del versante valsesiano». L'investimento è di quasi 7 milioni. Il cantiere non comprometterà l'apertura per la stagione estiva, che proseguirà regolarmente fino a settembre. A parlare della tempistica è Claudio Francione, direttore dei lavori: «Ci auguriamo che la costruzione si possa concludere per l'inverno - spiega -. L'azienda produttrice Doppelmayr Italia ha messo in campo tutte le risorse necessarie. L'unica variabile rilevante è rappresentata dalle condizioni meteo che speriamo siano favorevoli per l'estate e l'autunno, sperando non si verifichino nevicate precoci che potrebbero interferire con l'opera». La seggiovia sarà di ultima generazione con seggiole dotate di cupole per la copertura durante il viaggio. In questi giorni ci sarà l'allestimento del cantiere con l'arrivo dei mezzi meccanici nella zona tra Cimalegna e il Passo dei Salati: «Per i clienti che verranno ad Alagna in questo periodo sarà un modo per verificare con i propri occhi il lavoro che si sta attuando», dicono da Monterosa 2000. Intanto per animare ancora di più l'estate di Alagna, Monterosa 2000 a Pianalunga ha messo a disposizione il tubing: una pista su cui bambini e adulti possono scivolare su una ciambella gonfiabile risalendo con il tapis roulant. (Fonte www.lastampa.it)
Contact
PASCAL GAUDIN
Born in a tiny Swiss mountain hamlet in the Herens Valley (Valais), skiing and nature have always been part of my life. That is why I favor above all high mountain ski resorts. I will accompany you in the French, Italian and Swiss Alps where I particulary appreciate less popular ski resorts, where I enjoy making you discover the secret spots.
I never miss an opportunity to put on my skis, on- or off-piste and backyountry skiing. As a nature lover, I attach great importance to his respect in the context of my sports activities, without fundamentalism, and I share the values of Ecorider Chamonix.
Graduated in Tourism and Human Resources, sports & mental coach, my coaching aims to achieve your goals while living an experience off the beaten track. My calm and discrete character will help you to gain confidence on the skis.
To allow you to discover this universe, I have the highest international ski instructor qualifications : the Swiss Federal Certificate and the French State Diploma of Sports educator. I speak french, german and english.
You don't feel like completing a form? Then give us a telephone call or send us an e-mail directly:
ski@myskicoach.ch
+41 79 610 91 80
+41 79 610 91 80
ski@myskicoach.ch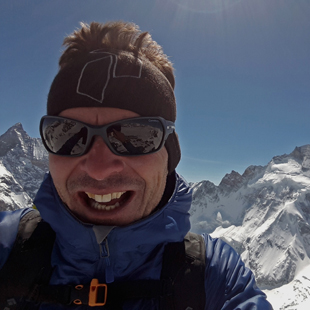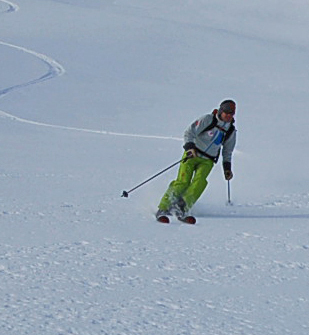 © 2017 MYSKICOACH.CH ® All Rights Reserved
Conception & Design by Pascal Gaudin Webmaster HES